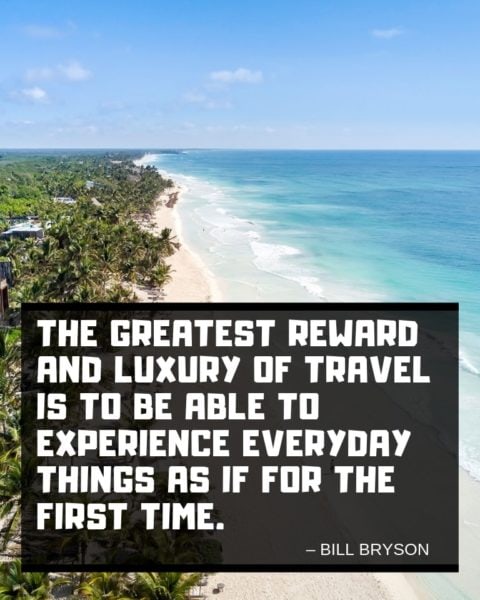 My experiences from traveling solo vary. I can have a very chilled out to a very overwhelming experience. Nevertheless, all experiences are welcome and make you all the wiser.
Once I have started traveling on my own I realized the many things I am capable of doing by myself. You are completely dependent on yourself. You learn to follow your instinct more and trust that you can accomplish all the things you set out to do.
I have learned to be OK on my own. And as scary and lonely as that may sound to many people, I enjoy my solitude to the fullest.

I used to buy a lot of souvenirs during my travels. I am a collector of junk I like to say about myself. Come Spring cleaning, and all I can think of is what in the hell was I thinking of buying all those trinkets. Some things I end up keeping; but most of it, I bin. Throughout the years I have come to the realization that creating memories and living in the moment is more valuable than tangible objects. Buying useless objects pale in comparison to the feelings you have while doing something for the first time by yourself. It is one of the greatest gifts and most satisfying feeling ever.
So instead of doing that (buying sh*t that will collect dust on my shelves), I decided to document my experiences on paper in a journal and add little mementos I find along the way. Writing stuff down has always been a thing of mine. For as long as I can remember I would always have a notebook of some sort, where I would write a bunch of stuff. Good, bad, silly things, just thoughts, ideas, wishes, and feelings. It is such a cathartic activity. I of course capture moments, and share this on my Instagram account, but the jotting down of your day at the end of it makes it all the more special.
One of the most important lessons I've learned whilst traveling alone is trusting myself. Trust that I can do things on my own, without panicking over every little thing. I do not need constant validation of what I am doing if I am something good or not. I struggle with this in my daily life, as I can be a very indecisive person (Libra's what can I say).
You have to push your fears aside and jump into the unknown with two feet. I have come to meet myself again and again in all these moments. And all I can say is how truly proud I am of just trusting myself and pushing through my fears.
I have become courageous and more independent because all I have is me. I haven't had much luck meeting a lot of new people during my travels yet, which is fine. That is not really the purpose of me grabbing my sh*t and venturing off on my own. But when I do meet people, I can honestly say, they are the most fun, genuine people I could meet. This for me is the ultimate because you remove the stigma you may have of certain countries, people and cultures. You realize how much alike each of us is. We are all roaming around on this planet with ideas, hopes, and dreams. And when you meet these people, you not only share your knowledge but you learn. We keep on learning every day. Not only about ourselves, but about other people. I mean there is no better souvenir than that!
#knowledgeispower
I always go to places with an open mind. And even though I am not a fan of surprises,(hence my first post; research and planning) I try to let loose as much as possible while still staying alert of my surroundings. I don't set my expectations too high for fear of disappointments. However, the reality of it is, I have never been disappointed so far! Most of my travels actually exceed my expectations. Maybe because I don't expect anything? Could be the case! LOL, IDK, but this is my truth.
I encourage you to push yourself to do something you have never done before, try out new things, eat new foods, meet new people (or not) and create memories of your experiences.
Trust yourself, and go out there and learn. About yourself, about other people and your surroundings.
It doesn't even have to be solo traveling all the way to a different country. I mean let's be honest, you can have a ball in your city, just by going to do stuff you've never done before. For fun. For enjoyment. For laif's sake! Go!
Thank you for reading dushi's!
Read you in the next post!
#livelalaif